Nick Offerman
April 19, 2019 @ 8:00 pm
$40 – $60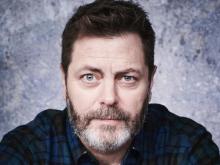 NICK OFFERMAN is an actor, writer and woodworker, best known as the character of Ron Swanson on NBC's hit comedy series "Parks & Recreation." The show, in which he starred with Amy Poehler, Chris Pratt, and Aziz Ansari, wrapped its 7th and final season in 2015. For his work on the show, Offerman won a Television Critics Association Award for Achievement in Comedy in 2011, having earned his first nomination in 2010.  He also received two Critics' Choice Television Award nominations for Best Supporting Actor in a Comedy Series.
Most recently, Offerman voiced a character in the English-language version to the French animated feature MY LIFE AS A ZUCCHINI and he starred in The Weinstein Company's THE FOUNDER alongside Michael Keaton and John Carroll Lynch. He also lent his voice to two animated films including SING and ICE AGE: COLLISION COURSE.  At this year's Sundance Film Festival, he was seen in THE LITTLE HOURS in which he stars alongside Alison Brie and Dave Franco and THE HERO alongside Sam Elliott, Laura Prepon and Krysten Ritter.
Coming up, he will be seen alongside his wife Megan Mullally in INFINITY BABY directed by Bob Byington, which premieres at SXSW 2017 and THE HOUSE OF TOMORROW alongside Asa Butterfield and Ellen Burstyn. Offerman and his wife Megan Mullally will be debuting their EPIX comedy special "Summer of 69: No Apostrophe" on May 19th. The special originates from their comedy tour with the same name which began in 2015 and toured across the US and UK. Offerman's previous comedy special "American Ham" was released on Netflix in December, 2014.
In 2015, Offerman was seen in "A Walk in the Woods" and "Me and Earl and the Dying Girl." Both films premiered at Sundance in 2015. "Me and Earl and the Dying Girl" took home the U.S. drama grand jury prize and U.S. drama audience award. He also acted as a co-producer for the documentary "Look & See: A Portrait of Wendell Berry" which made its debut at SXSW. That year, Offerman was also seen in the second season of the FX series "Fargo" alongside Kirsten Dunst, Ted Danson, Patrick Wilson and Jesse Plemons, for which he received a nomination for a Critics' Choice TV Award.
In 2013, Offerman released his New York Times bestselling book, Paddle Your Own Canoe: One Man's Fundamentals for Delicious Living. He released his second New York Times bestseller, Gumption: Relighting the Torch of Freedom with America's Gutsiest Troublemakers, in May 2015.   In October of last year, he released his third New York Times bestselling book called Good Clean Fun about his very own Offerman Woodshop. In addition to writing books, Offerman also narrated "The Adventures of Tom Sawyer" for Audible.com, which debuted at #4 on Audible's Fiction Best Seller list.
His long list of film credits also includes Lake Bell's "In a World…", "Somebody Up There Likes Me"; "Welcome to Happiness"; "The Kings of Summer"; "21 Jump Street" with Channing Tatum and Jonah Hill; "Smashed" with Octavia Spencer and Megan Mullally; "Hotel Transylvania 2 "; "Casa de mi Padre" with Will Ferrell, Gael Garcia Bernal and Diego Luna; "All Good Things"; "The Men Who Stare at Goats," alongside George Clooney; "The Go-Getter"; "Wristcutters: A Love Story"; "Sin City," with Bruce Willis and Mickey Rourke; "Miss Congeniality 2: Armed & Fabulous," starring Sandra Bullock; and "Groove."
In addition to "Parks & Recreation" and "Fargo", television audiences have seen Offerman on multiple episodes of Adult Swim's "Children's Hospital" and ABC's "George Lopez."  He has also guest starred on numerous series, including "Deadwood," "NYPD Blue," "24," "The Practice," "Will & Grace," "The West Wing", "Gilmore Girls," "Monk," and "ER." He has voiced animated characters for "Axe Cop", "The Simpsons", "Bob's Burgers", "Gravity Falls", and "Out There".
Offerman got his start in the Chicago theater community, where he was a founding member of the Defiant Theatre.  He received a Joseph Jefferson Citation for his performance in "The Kentucky Cycle," at Chicago's Pegasus Players Theatre, and was awarded a second Jefferson Citation for the puppets and masks he and his team crafted for "The Skriker," at Defiant.  He also worked extensively at Steppenwolf, The Goodman, Wisdom Bridge and Pegasus Players, among others. In 2014, he starred with Megan Mullally in the play "Annapurna" at the Acorn Theatre in New York. Offerman also appeared in the play when it premiered at the Odyssey Theater in Los Angeles in April 2013. His stage work also includes the off-Broadway play "Adding Machine," the 2015 Huntington Theater production of "A Confederacy of Dunces", and he is a company member of the Evidence Room Theater Company in Los Angeles.
In his spare time, he can be found at his woodshop in Los Angeles building hand-crafted items ranging from fine furniture to canoes to ukuleles.