The Righteous Brothers and The Temptations
July 26, 2019 @ 8:00 pm
$23.50 – $71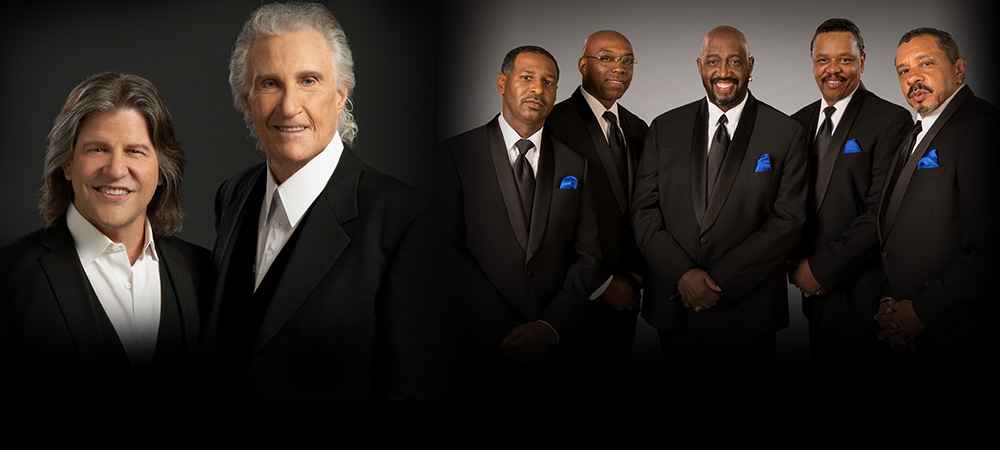 Rock and Roll Hall of Fame duo The Righteous Brothers are teaming up with four-time Grammy award-winning group The Temptations for a one-of-a-kind co-headline show at PNC Pavilion in Cincinnati, OH on Friday, July 26. Fans can expect a night full of legendary hits, signature dance moves, and unmistakable harmonies.
ABOUT THE RIGHTEOUS BROTHERS
Blue-eyed soul pioneers The Righteous Brothers are back! With a string of #1 classics, including the most played song in radio history, "You've Lost That Lovin' Feelin'", the Rock and Roll Hall of Fame duo of Bill Medley and Bobby Hatfield topped the charts in four decades. After Bobby's death in 2003, Bill Medley continued to perform to sold-out crowds around the world, but fans and friends pleaded with him to keep The Righteous Brothers alive. "No one could ever take Bobby's place, but when I caught Bucky Heard's show it all came together," says Medley. "I found the right guy to help me recreate the magic."
The concert experience features their biggest hits – "Lovin' Feelin'," "Soul & Inspiration," "Unchained Melody," "Rock and Roll Heaven," Medley's Grammy-winning Dirty Dancing theme "The Time of My Life," and much, much more!
Bill Medley is truly one of the iconic figures in American music history. His instantly recognizable baritone voice has anchored some of the biggest recordings of all time. He's won a Grammy, an Oscar, a Golden Globe, and an American Music Award.
The Orange County, CA native began writing songs as a boy and had his breakout as a songwriter and singer when, in 1963, the Medley-penned "Little Latin Lupe Lu" became a regional hit for Bill and Bobby Hatfield, as their first release as The Righteous Brothers. Other regional hits followed, "Justine," "Koko Joe," and "My Babe," which led to a regular spot on ABC-TV's national Shindig! broadcast. Shindig's smash success coincided with The Righteous Brothers opening for both The Beatles and The Rolling Stones on their first US tours.
Soon, The Righteous Brothers caught producer Phil Spector's attention and he signed them to record what would become, according to BMI, the most played song in the history of American radio – the Barry Mann/Cynthia Weil classic, "You've Lost That Lovin' Feelin'." A string of top hits followed until 1968 when Medley and Hatfield agreed to part ways to pursue solo efforts. Medley soon scored with top ten hits, "Peace," "Brother," and "Brown-eyed Woman." In 1974, Bill and Bobby re-united and within a few weeks had yet another monster hit with "Rock and Roll Heaven."
From then, until Bobby's passing in 2003, The Righteous Brothers never stopped performing to packed crowds. During that period Bill also recorded the chart-topping duet with Jennifer Warnes, "The Time of My Life," for the movie Dirty Dancing. It went on to sell over 32 million copies worldwide. Then, shortly before Bobby passed away, in 2003 Righteous Brothers fan Billy Joel inducted the pair into the Rock and Roll Hall of Fame with a glowing 7-minute speech.
Always active and stretching his creative talents, Medley has also sung on the soundtracks or performed the theme songs for 33 movies and TV shows and, in 2014, released his memoir, The Time of My Life, published by Da Capo Press.
Bucky Heard has been one of the most popular and versatile performers in America for several years, headlining countless shows in major venues. His reputation as a gutsy rock and roll singer, with an incredible vocal range has garnered much critical praise and a legion of fans. He's been hand-selected to share the concert stage with legends like Andy Williams and Glen Campbell and honored as "Male Vocalist of the Year" by entertainment publications. Credited with being one of the hardest working and in-demand performers, Bucky has rocked his way across America with his 10-piece horn band and starred in numerous national production shows. Multi-talented and always seeking to expand his musical horizons, he recently created, wrote, and produced an original children's musical variety show called, Rock U Mentally, which headlined the American Bandstand Theatre for a two consecutive Summers.
ABOUT THE TEMPTATIONS
For more than fifty years, The Temptations have prospered, propelling popular music with a series of smash hits, and sold-out performances throughout the world.
The history of The Temptations is the history of contemporary American pop. An essential component of the original Motown machine, that amazing engine invented by Berry Gordy, The Temps began their musical life in Detroit in the early sixties. It wasn't until 1964 however, that the Smokey Robinson written-and-produced "The Way You Do the things You Do" turned the guys into stars.
An avalanche of hits followed. Many of which, "My Girl" for instance, attained immortality. "It's Growing," "Since I Lost My Baby;," "Get Ready," "Ain't Too Proud to Beg," "Beauty Is only Skin Deep," "I Wish It Would Rain"… the hits kept coming.
The classic lineup was Otis Williams, Melvin Franklin, Paul Williams, Eddie Kendricks and David Ruffin. Beyond the fabulous singing, The Temps became known for smooth stepping and flawless presentations. The Temptations Walk became a staple of American style. Flair, flash and class. Millions of fans saw The Temptations as cultural heroes.
During the sixties and seventies, The Temps got serious. They changed their tone, dress and music. Producer Norman Whitfield led the way. His Temptations hits, many featuring Dennis Edwards who had replaced David Ruffin, burned with intensity. "Runaway Child," "Cloud Nine," "I Can't Get Next to You," "Papa Was a Rolling Stone", and "Psychedelic Shack" still smolder.
Other stellar singers Richard Street, Ali-Ollie Woodson, and Theo Peoples joined and adding their luster to the groups' growing fame.
No matter the change in personnel, The Temptations remained true to The Temptations tradition. They survived the whims of fashion, whether disco or techno, and stuck to their guns.
"Great singing," says Otis Williams, "will always prevail."
The current lineup consists of: Otis Williams, Ron Tyson, Terry Weeks, Larry Braggs, Willie Greene Jr.
"The more we change," says veteran Ron Tyson, "the more we stay true to ourselves. We're about singing straight-up soul. It's a style that will live on forever."
In 2018, The Temptations arrived on the Great White Way for the "Ain't Too Proud"; an electrifying new musical about the life and times of The Temptations, "the greatest R&B group of all time" (Billboard Magazine). They were five young guys on the streets of Detroit when they were discovered by Berry Gordy, who signed them to his legendary new label. After 24 attempts, they finally had a hit and the rest is history—how they met, how they rose, the groundbreaking heights they hit, and how personal and political conflicts threatened to tear the group apart as the nation fell into civil unrest.
Kennedy Prize-winning playwright Dominique Morisseau, Olivier Award-winning choreographer Sergio Trujillo, and two-time Tony Award®-winning director Des McAnuff bring this thrilling story of brotherhood, family, loyalty, and betrayal to the Broadway stage. Featuring iconic hits like "My Girl," "Just My Imagination," and "Papa Was a Rolling Stone" and the signature dance moves that made the "Classic Five" Temptations part of our cultural history forever.
The Temptations were inducted into the Rock and Roll Hall of Fame in 1989, into the Vocal Group Hall of Fame in 1999, and into the Rhythm & Blues Music Hall of Fame in 2013; the same year they were honored with the Recording Academy's Lifetime Achievement GRAMMY® Award. Winner of four GRAMMY Awards, they received Motown's first-ever GRAMMY in 1969 for "Cloud Nine." Additionally, a two-part, scripted miniseries on the group, broadcast by NBC in 1998, was a ratings smash and won an Emmy® Award for Outstanding Directing for a Miniseries or Movie.