The Big Lebowski Blast
July 20, 2019 @ 4:00 pm

-

11:30 pm

Free – $35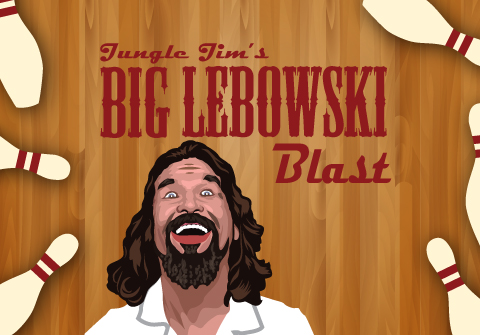 You're a Lebowski, I'm a Lebowski, that's terrific. Join us for our second annual Jungle Jim's Big Lebowski Blast at the Jungle Experience Center (JXC) and Paradise Pavilion at Jungle Jim's Eastgate! That's right dude! We got to thinkin' that the Jungle is the perfect place to celebrate the wacky world of Lebowski, especially since there's not a Ralphs around here. We've got a whole lot of what-have-you planned for you achievers, including our costume contest for the best character look-alike! We've been working in shifts to plan this event, you're not dealing with morons here.
VIP – $35
What's in it for you? Of course, there's that to discuss. You'll be treated to the movie you love so much on the big screen (quoting encouraged) in our completely unspoiled Jungle Experience Center (JXC). VIP admission includes a swag-ringer swag bag and two drink tickets that can each be redeemed for a White Russian or a Stella Artois. Plus, our Executive Chef, a real reactionary, is preparing a themed appetizer buffet with an array of finger foods (You want a toe? We'll get you a toe!). We're also holding a costume contest at the after party with prizes for the best look-alikes, so please come dressed as your favorite Lebowski character!
FREE
There will be free entrance into our Garden Party at Jungle Jim's Paradise Pavilion where you can order Caucasians, oat sodas, and other drinks because the full bar's over there. Dress as your favorite Lebowski character for a chance to win a prize in our costume contest and sympathize with friends like these! Plus, we don't mind if you do a cigar or cigarette.
Calling all achievers! If you've never seen the movie or if you watch it compulsively and without joy, tattoo it on your forehead: Jungle Jim's Big Lebowski Blast will be OVER THE LINE!
The Menu
Donny's In N Out Slider
caramelized, onions, lettuce, tomato, sauce
Walter's Show Dog (Corn Dogs)
braised pork belly, cornbread batter, smoked mustard sauce
Bunny's Toe (Pigs n Blanket)
all beef hot dog, white cheddar, ancho ketchup
Nihilist Short Stack
buttermilk pancakes, lingonberry syrup
"The Dudes" Pub Fries
saratoga chips, cheddar, bacon, ranch
White Russian Popcorn
vodka, coffee butter, malted milk powder-