Remus Revival
January 18, 2020 @ 7:00 pm
$10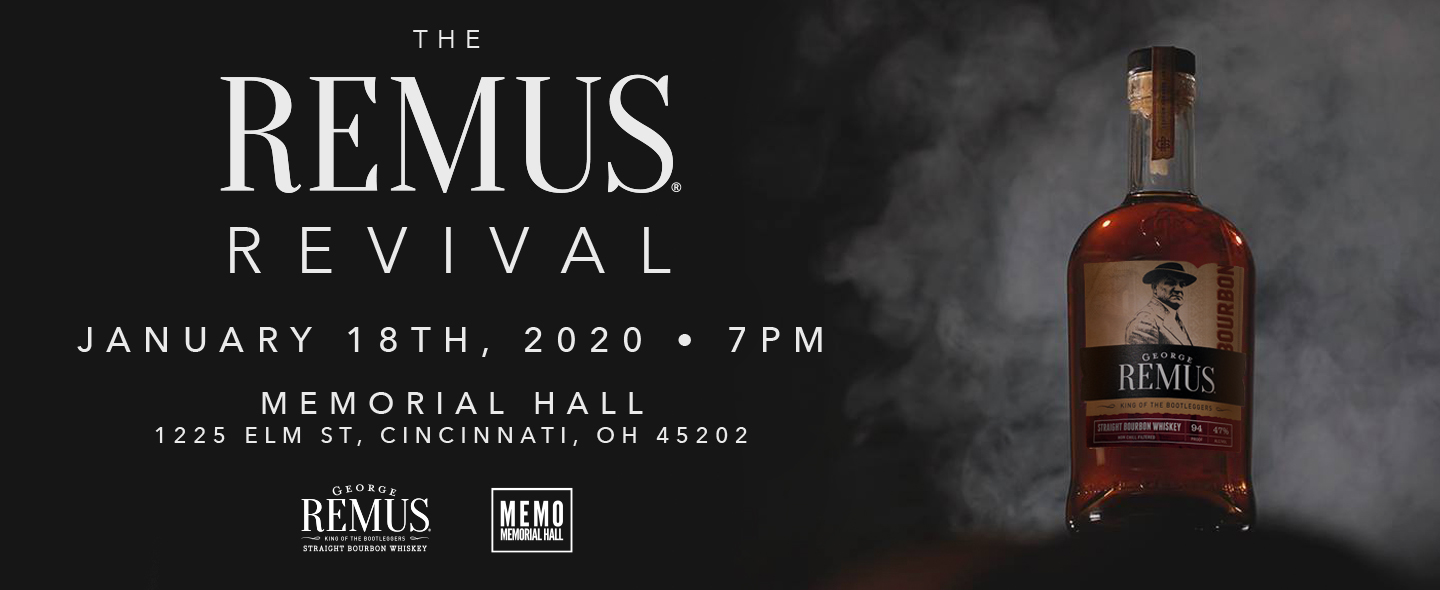 Join us for the return of the 3rd annual Remus Revival! Thats right, this is the REVIVAL of the King of the Bootleggers himself, the man, the myth, the legend, GEORGE REMUS, and he's coming BACK for YOU!
On this 68th anniversary of his passing, we're reviving the legend for one night, in the heart of Cincinnati, home to Remus' incredible prohibition era bootlegging operation!
Dress in your best themed attire, and join George Remus Bourbon at Memorial Hall as we dive into the history of George Remus, King of the Bootleggers, with Robin Carnes, Market Manager for George Remus Bourbon. We'll also explore delicious cocktails from Bill Whitlow, mixologist and owner of Rich's Proper Food & Drink with a great cocktail demo!
We'll enjoy light bites from Boomtown Biscuits and Whiskey, and more George Remus cocktails from the bar, as we dance the night away with themed music from the era!
Each ticket includes the George Remus cocktail demo and history experience with Robin Carnes and Bill Whitlow, a specialty welcome cocktail when you arrive, a spread of fantastic small bites, dancing and more cocktails available at the bar!
Just like last year, we'll be doing our Cocktail Passport Program again! Starting January 3rd, you'll be able to pick up your cocktail passports at each sponsored location. Collect all cocktails from each place, and bring your completed passport to the main party on January 18th, 2020 for a chance to win the Ultimate George Remus Grand Prize: a basket complete with a George Remus embossed back pack, a bottle of Remus Repeal Reserve Series 3, 2 engraved Remus cocktail glasses, t-shirt, hat, coasters and SO much more. Stay tuned to the "That Remus Girl" Facebook and Instagram pages to see everything that will be included in the grand prize. Follow That Remus Girl to also stay updated on Cocktail Passport locations and any updates regarding the Official Remus Revival party.
Swag Bags and a special tasting of Remus Repeal Reserve Series 3 will be offered to the first 50 people who sign up! Enjoy fun goodies in each bag from George Remus bourbon and our partners for the evening.
Be sure to bring your completed cocktail passport to the main event for your chance to win the Ultimate George Remus Grand Prize!