Nelly with Aaron Carter
March 15, 2019 @ 7:30 pm
$40 – $103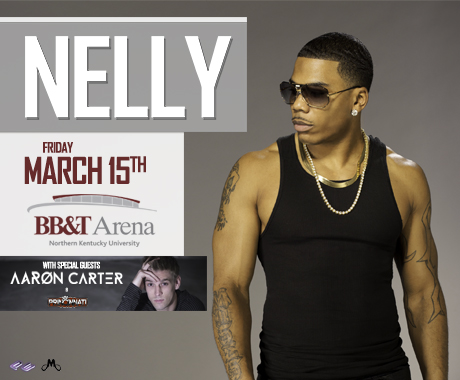 NELLY, the three-time Grammy award winning artist, will be performing at BB&T Arena on Friday, March 15. Opening for Nelly will be special guest Aaron Carter.
Beginning with the single "Country Grammar (Hot …)," NELLY became successful beyond his wildest dreams. His first album, Country Grammar, sold more than eight million copies, turning him into an MTV hero. Another irresistible summer-singer chorus—"Take off all your clothes!"—turned NELLY's follow-up single, "Hot in Herre," into a smash. His 2002 album Nellyville sold three million copies in its first six months and vied with Eminem and Bruce Springsteen for the top of the pop charts.
NELLY has won three Grammys for BEST RAP PERFORMANCE BY A DUO OR GROUP ("Shake Ya Tailfeather") in 2003, BEST MALE RAP SOLO PERFORMANCE ("Hot In Herre") and BEST RAP/SUNG COLLABORATION ("Dilemma") in 2002 and has had 12 Grammy nominations.
AARON CARTER became an international pop sensation with several multiplatinum albums and countless chart-topping singles before adulthood. His first album, Aaron Carter, released when he was just 9 years old went 5x platinum. His second album, Aaron's Party released in 2000, went quadruple platinum, followed by two more triple platinum album releases. Now, Aaron is returning to his music roots with his first album in 15 year