Monster Jam – Triple Threat Series
March 30, 2019 @ 1:00 pm

-

March 31, 2019 @ 1:00 pm

$16.50 – $71.50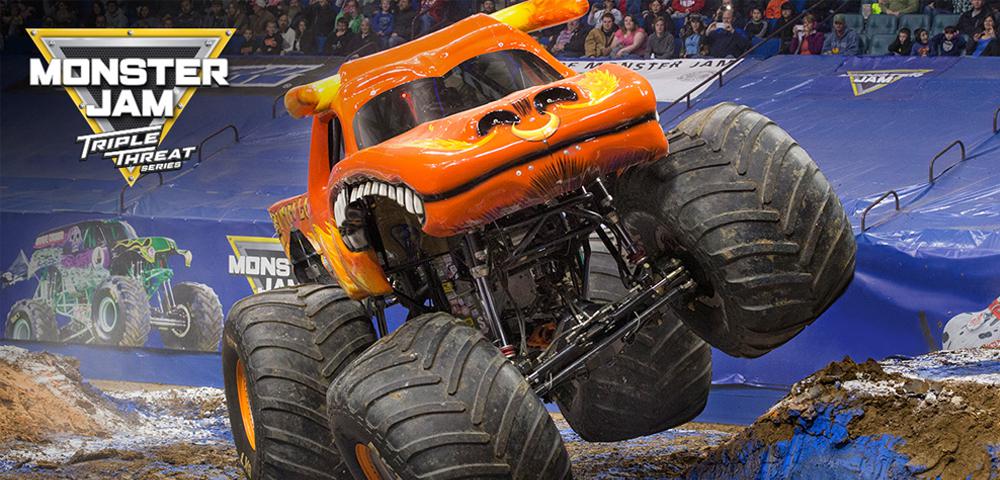 Monster Jam®, the unexpected, unscripted, and unforgettable family-friendly motor sport announced today that tickets are now on sale for the 2019 Cincinnati events. The 2019 season will bring a new level of high-flying, four-wheel excitement to the entire family with six different competitions at U.S. Bank Arena on March 30-31, 2019. Featuring eight of the most intense athletes of Monster Jam, Cincinnati fans will witness a fierce battle for the championship with each competitor contending in customized high-powered vehicles: Monster Jam Speedsters, Monster Jam ATVs and of course, the iconic Monster Jam trucks in six events sure to leave fans on the edge of their seats.
Monster Jam drivers are trained, world-class male and female athletes who have mastered not only the physical strength and mental stamina needed to compete, but the vital dexterity to control 12,000-pound machines capable of doing backflips, vertical two-wheel skills and racing at speeds up to 70 miles per hour to produce jaw-dropping, live motor sports action seen around the world. Now across all Monster Jam events, fans in every city will have the chance to vote for the winner in the two-wheel and freestyle competitions by real-time, in-stadium fan voting on their smartphones.
LINEUP
Blue Thunder
El Toro Loco
Grave Digger
Monster Energy
Monster Mutt Rottweiler
Pirate's Curse
Scooby Doo
Zombie
*Trucks/Drivers subject to change
PIT PARTY
Saturday March 30, 10:30 AM – 12:00 PM
Sunday March 31, 10:30 AM – 12:00 PM
Enter at the main gate next to the box office. The Monster Jam® Pit Party provides unprecedented access to the Monster Jam trucks and drivers. This unique experience in the world of motorsports gives you access to see the trucks up close, take pictures, meet the drivers and get their autographs. Add the Pit Party Pass at the end of your ticket order. If you've purchased tickets already but didn't purchase your Pit Party Passes yet, you can still purchase them online in advance at Ticketmaster.com.