Margaret Cho
February 22, 2019 @ 7:30 pm

-

February 23, 2019 @ 11:30 pm

$25 – $55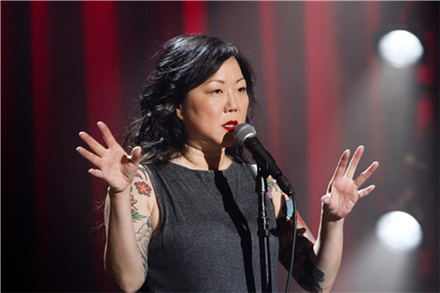 Margaret Cho was born Dec. 5, 1968 and raised in San Francisco. "It was different than any other place on Earth," she says. "I grew up and went to grammar school on Haight Street during the '70s. There were old hippies, ex-druggies, burnouts, drag queens, and Chinese people. To say it was a melting pot – that's the least of it. It was a really confusing, enlightening, wonderful time."
Ignoring the traditions of her patriarchal culture, her mother bravely resisted an arranged marriage in Korea and married Margaret's father a Korean joke book writer. "Books like 1001 Jokes for Public Speakers – real corny stuff," Cho says. "I guess we're in the same line of work. But we don't understand each other that way. I don't understand why the things he says are funny and the same for him."
What Margaret did know is that being a kid was hard. Racing toward adulthood as fast as she could to escape the constant bullying she endured, Margaret began writing jokes at 14 and professionally performing at age 16. Getting picked on, and not having a feeling of belonging, is a subject that's not only near to Margaret's heart, but something she still feels very deeply despite all of her successes. In that sense, Margaret has gladly and graciously become the "Patron Saint for Outsiders," speaking for those who are not able to speak for themselves, and encouraging people who can to use their voice to promote change.
Soon after starting her Stand Up career, Margaret won a comedy contest where first prize was opening for Jerry Seinfeld. She moved to Los Angeles in the early '90s and, still in her early twenties, hit the college circuit, where she immediately became the most booked act in the market and garnered a nomination for "Campus Comedian of The Year." She performed over 300 concerts within two years. Arsenio Hall introduced her to late night audiences, Bob Hope put her on a prime time special and, seemingly overnight, Margaret Cho became a national celebrity.
Her groundbreaking, controversial, and short-lived ABC sitcom, All-American Girl (1994) soon followed. Oddly, while chosen because of who she was – a non-conformist Korean American woman with liberal views – the powers-that-be decided they preferred for Margaret to "tone it down" for the show. She soon realized that though she was an Executive Producer, this would be a battle she could not win. "For fear of being too "ethnic," the show got so watered down for television that by the end, it was completely lacking in the essence of what I wanted to accomplish."
The experience was a traumatic one, bringing up unresolved feelings left over from childhood, and Margaret developed an eating disorder as a response to criticism about her body. She was so obsessive in her goal to try to be what she thought others wanted, that she landed in the hospital with kidney failure. Through out this period of self-abuse, Margaret continued performing to sold-out audiences in comedy clubs, theaters, and college campuses, working to channel her anger in to something more positive.
In 1999, her groundbreaking, off Broadway one-woman show, I'm The One That I Want, toured the country to national acclaim and was made into a best-selling book and feature film of the same name. After her experience with All-American Girl, Margaret wanted to make sure she would only ever have to answer to herself, putting herself in charge of the distribution and sales of her film, which garnered incredible reviews and broke records for "Most Money Grossed per Print". In 2001, after the success of her first tour, Maragaret launched Notorious C.H.O., a smash-hit 37-city national tour that culminated in a sold-out concert at Carnegie Hall. Notorious C.H.O., hailed by the New York Times as "Brilliant," was recorded and released as a feature film. Both films were acquired by Showtime, and produced by Margaret's production company, a testament to the success of Margaret's business model.
In March of 2003, Margaret embarked on her third sold-out national tour, Revolution. It was heralded by the Chicago Sun Times as "Her strongest show yet" and the CD recording was nominated for a Grammy for Comedy Album of the Year. In 2005, she released Assassin, with The Chicago Tribune stating "(Assassin) packs passion in to each punch." The concert film premiered in select theatres and on the gay and lesbian premium channel Here! TV.
In 2007, Margaret hit the road with Cyndi Lauper, Debbie Harry and Erasure, along with indie faves The Dresden Dolls and The Cliks, to host the True Colors Tour, benefiting the Human Rights Campaign. An entertainment pioneer, Margaret also created and starred in The Sensuous Woman, a live variety show featuring vaudevillian burlesque and comedy, which she took for an extended off-Broadway run in the fall.
Margaret returned to TV in 2008 with the VH1 series, The Cho Show. Describing it as a 'reality sitcom,' Margaret said at the time, "It's the closest I've been able to come on television to what I do as a comic." The Cho Show followed Margaret, her real parents, and her eccentric entourage through a series of bold and outrageous experiences, shaped by Margaret's 'anything goes' brand of stand-up.
The aptly titled Beautiful came next, exploring the good, bad and ugly in beauty, and the marketers who shape our world. The concert premiered in Australia at The Sydney Theater, marking the first time Margaret debuted a tour abroad. While touring through the US, the concert was filmed at the Long Beach theatre, aired as a special on Showtime in 2009, and then released as both a DVD and a book.
In 2009 Margaret nabbed a starring role in the comedy/drama series Drop Dead Diva, which aired for six seasons on the Lifetime network. Margaret enjoyed not having the sole responsibility for keeping things afloat. "(Drop Dead Diva) was a very fulfilling experience. It let me taking about the things I talk about, like body image, and women feeling good about themselves."
Never one to shy away from a challenge, Margaret stepped right up to the plate when asked to do Season 11 of the highly- rated Dancing with the Stars. Paired with pro Louie Van Amstel, Margaret was on the show's most controversial seasons. Margaret got a very strong reaction to her Rainbow Dancing Dress during a time when the issue of bullying, especially among gay teens, was being heavily covered in the media. "I am very proud to have been able to wear a gay pride dress on a show that is so conservative."
2010 culminated with another high honor, a second Grammy Award nomination for "Comedy Album of the Year" for Cho Dependent, her incredibly funny collection of music. Featuring collaborations with Fiona Apple, Andrew Bird, Grant Lee Phillips, Tegan & Sara, Ben Lee and more, the album received critical acclaim. The album is funny, but also quite musical, featuring not only her surprisingly strong singing voice, but her skill on the guitar, banjo and dulcimer. "I was inspired to make beautiful music with a comic edge. I took this very seriously, taking vocal and guitar lessons while I was touring."
Margaret self released Cho Dependent on her own Clownery Records, and was encouraged by the acclaim, since there are only a handful of artists putting out true albums of comedy music – "Weird" Al Yankovic, Flight of the Conchords, The Lonely Island, to name a few – yet no women. In 2011, Margaret released the live concert film of Cho Dependent, which also had its cable network debut on Showtime. Shot at the Tabernacle in Atlanta, GA, she remained uncensored, with a characteristically no-holds-barred show.
In 2012, Margaret spent whatever free time she had crafting her all new standup show, the uproariously and aptly named MOTHER, which kicked off with both a US and European tour. According to Margaret, "MOTHER offers up an untraditional look at motherhood and how we look at maternal figures and strong women in queer culture."
Margaret's creative side moved ahead at full speed with an Emmy nomination for "Best Guest Performance" on Thirty Rock. After the death of her mentor, Robin Williams, overwhelmed her, a mutual friend told her not to grieve Robin, but to 'Be Robin'. The hashtag #BeRobin was born, as Margaret began setting up shop in different places around San Francisco in an effort to raise money for the Homeless community. "All I do and create a distraction – comedy and music – for several hours and collect goods and donations for people who need them." The GoFundMe page Margaret set up has raised over $20,000.00 in donations.
In 2015, Margaret was one of the hosts of TLC's All About SEX, a late night call-in talk show with Margaret covering sex toys and alternative sexuality. "I wanted to remove the stigma of women not only buying sex toys, but experimenting with what makes them feel good."
2015 also brought Margaret back to the stand up stage, where she filmed her Showtime special/DVD psyCHO at the historic Gramercy Theatre in New York City. Called "wildly kinetic" by the New York Times, psyCHO "is about insanity, about the anger I feel about everything happening in the world, from police brutality to racism to the rising tide of violence against women." In keeping with the show's theme, the artwork, a portrait she commissioned from artist Vincent Castiglia made entirely of her own blood.
There's no break for Margaret in 2016: The three-time Grammy and Emmy nominee will release her next studio album, American Myth, on April 29th on her Clownery label. The follow up to Cho Dependent, it's the first collection of new music from Margaret in 6 years. She has already debuted three music videos: "Ron's Got a DUI", "Fat Pussy", and the song that set the Internet on its ass (take that, Kardashians), "(I Want To) Kill My Rapist". Salon magazine called the song "A new anthem" and UK's The Guardian reminded anyone who was offended that "Cho is famed for her boldness, her taboo-breaking humour." Margaret spoke to Billboard about the song saying, "I'm a victim, and now a survivor, of sexual abuse and rape, and I think it's really hard to talk about it. I think having a song to perform live will allow others to talk about it. It's a huge issue, and this was cathartic for me."
American Myth, made with her longtime collaborator Garrison Starr, also showcases Margaret's first efforts as a composer. Margaret says the album is "my glamorous and glittering tribute to family, comedy, anger, fame, gayness, grief, fat pride, love and hate."
In what is a fitting tribute, Margaret has also been named special co-host of E!'s Fashion Police, covering the biggest award shows of 2016. Since Joan Rivers was not only a friend, but also a vocal supporter of Margaret, this has a unique significance. "Although I am not quite a fashionista, I would love to look at it like I am changing it up – Fashion Police: Special Victims Unit. It makes me happiest to spend time with Melissa (Rivers), and when I see her laugh at my jokes, I feel like Joan is smiling."
And in typical "go-go-go" style, Margaret has signed on to develop Highland, a dramedy for Amazon. The hour long show follows Margaret, who after court-0rdered rehab, gets a chance to start over by moving in with her (dysfunctional) family who run a pot dispensary. Co-created by Margaret and writer Liz Sarnoff ("Deadwood, Lost, Alcatraz) Margaret is set to star and executive produce as well.
With so much success in her artistic life, Margaret has never turned away from the causes that are important to her. She is incredibly active in anti-racism, anti-bullying, advocating for the homeless and gay rights campaigns, and has been recognized for her unwavering dedication. She was the recipient of the Victory Fund's Leadership Award and the first-ever "Best Comedy Performance Award" at the 2007 Asian Excellence Awards. She also received the "First Amendment Award" from the ACLU of Southern California, and the "Intrepid Award" from the National Organization for Women (NOW). Margaret has been honored by GLAAD, American Women in Radio and Television, the Lambda Legal Defense and Education Fund, the National Gay and Lesbian Task Force (NGLTF), the Asian American Legal Defense and Education Fund (AALDEF), PFLAG and LA Pride, who gave Margaret a "Lifetime Achievement Award" for leaving a lasting imprint on the LGBT community.
Through her hard work, Margaret has had the opportunity to be heard, to extend her point of view and become regarded as a true pioneer in her field. She takes none of it for granted. "It's a wonderful thing to be known as a 'safe haven' for people. People come to see me, or buy my records and/or DVDs because my point of view satisfies a lot of what needs to be said out there. More than anything, that makes me really proud.