Heart: Love Alive Tour with Elle King
July 27, 2019 @ 7:00 pm
$29.50 – $350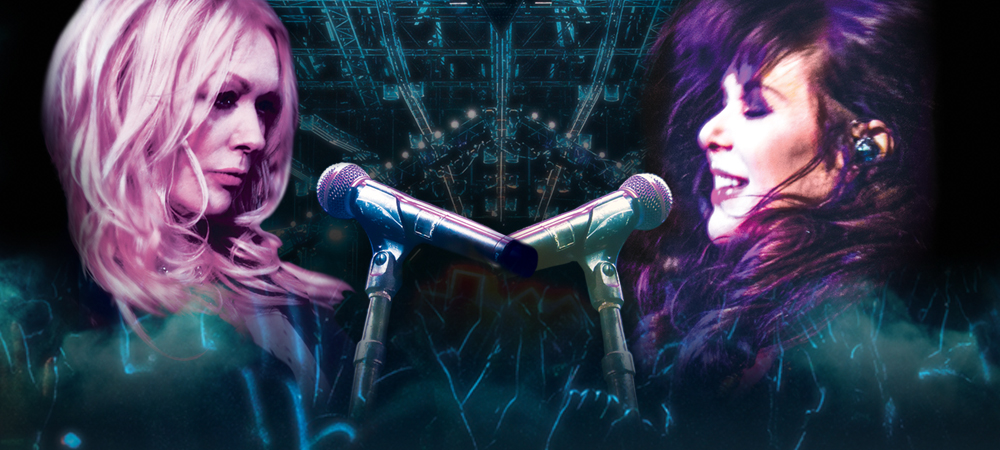 HEART—ANN and NANCY WILSON–will return to the road in 2019 for the first time in three years with their massive "Love Alive" cross-country summer tour.  The expansive 39-city outing by the trend-setting, multiple-platinum Rock & Roll Hall of Fame legends kicks off Tuesday, July 9 at the Hollywood Casino and will make a stop in Cincinnati, OH at Riverbend Music Center on Saturday, July 27.
HEART will partner with REVERB for this tour, to reduce the environmental footprint of the events while also engaging fans in local and national causes each night in the concourse. For more information, visit REVERB.org.
Q&A WITH ANN AND NANCY WILSON OF HEART, 2019
Congratulations on the news of the upcoming tour. What inspired you to name it "Love Alive"?
ANN: "Love Alive" is a song and a sentiment that goes back a long way with us. It goes forward too. It is a hopeful, positive and universal vibe like we feel this tour will be.
NANCY: Yes! I think the tour will spark some positive new energy as we rediscover some of our iconic songs and also some fan favorites. Calling the tour "Love Alive" was something Ann and I felt instantly good about. We have always had many love-themed mottos along the way like "Love Rules," "Love Wins," "Love is IT"–and of course it's a very cool song as well.
his will mark Heart's first tour in three years. During this time, you both released your own projects. Do you feel your time apart will inject Heart with a new energy?
NANCY: Yes, I could see it was time for Heart to have a break. We'd been slogging through tour after tour fairly nonstop and were starting to burn out a little bit. Things had just reached a heavy climax. Working with my other new band Roadcase Royale was a life-saver. Writing brand new songs playing shows and delivering a new album with them was the medicine my soul needed. Ryan Waters (who with Liv Warfield worked in Prince's band) will be joining me on the Heart stage and I know that will inject a wonderful magic into the Heart equation.
ANN:  Absolutely! Both Nancy and I have stretched our wings in life these last three years. We've both lived and loved. We have breathed and traveled and experienced life. We come to this tour with fresh energy and oxygen.
Might this year's tour be different in any way than the 2016 tour?
ANN:  It will be unlike any other Heart tour that has been. Some of the songs will be classic of course, but this tour will be a new animal.
NANCY: I think this tour should look feel and sound bigger than other Heart tours so far.
What is the connective tissue between Heart and the other artists you've invited to tour with you?
NANCY: I think this year is a good year to show the collective impact of some powerful women in music. We would usually steer clear of the female-centric concept, but in the light of current events it seems like the right statement at the right time."
ANN:  Sheryl and Joan we have known for a long time. We have hung out and appreciated each other's music onstage and off. Brandi Carlile is a fresh and authentic artist that we both love….and Elle King is my favorite new artist. She has so much soul and attitude! We are so thrilled to host all these artists on the "Love Alive" tour.
Heart has created a meaningful body of work with songs that are deeply woven into the culture. Can you describe the feeling of what it's like to perform these songs in front of longtime fans as well as new ones?
ANN:  It feels good to see people's eyes light up when we play one of the classic songs they know and love. I always wonder how a song like "Crazy On You" hits the mind and soul of a 17-year-old in 2019…they seem to be as into it live as everyone else. When I think of the connection we continue to have with our very diverse audience, I am deeply grateful and always amazed!
NANCY:  It's an incredible feeling and a great compliment to see our loyal fans and the new generation of Heart fans at the shows. It speaks to the songs as well as giving a bigger sense of history to the younger ones. It's authentic live music with no added prerecorded or auto tuned vocals or tracks blended in. No bells or whistles, smoke or mirrors. I think in many ways that's a whole new thing for young kids who love music and they know the difference and appreciate it. It's completely real.
About HEART:
When Ann and Nancy Wilson formed HEART, the idea of two women leading a rock band was still groundbreaking.  From the moment 1976's Dreamboat Annie was released, they became stars. With hits like "Magic Man," "Crazy On You," "Barracuda," "Alone," "What About Love," and "These Dreams," the band became one of the biggest hit-makers in the seventies and eighties selling more than 35 million records. In 2012, their memoir Kicking & Dreaming: A Story of Heart, Soul and Rock & Roll became a New York Times bestseller, and in 2013 the group was inducted into the Rock and Roll Hall of Fame.
About ELLE KING:
Multi-platinum and multi-Grammy-nominated recording artist Elle King recently released her critically-acclaimed second album, Shake The Spirit, the follow up to her debut album Love Stuff, a sultry, badass mix of rock and roll, blues, and country, with a twinge of pop. Her breakthrough single "Ex's & Oh's," earned her two GRAMMY nominations and was certified double platinum. The track, about leaving behind a string of brokenhearted exes, hit No. 1 on Billboard's Hot Rock Songs Chart, and topped the AAA, Hot AC, and Alternative Radio charts, leading King to become the second female artist in 18 years to reach No. 1 at the latter format. She was also featured on Dierks Bentley's GRAMMY-nominated No. 1 Country Airplay hit "Different For Girls" (she performed it with Bentley at the CMA Awards and took home an award for "Musical Event of the Year"). King also performed for President Obama in honor of Mavis Staples at the 2016 Kennedy Center Honors.
Shake The Spirit features lead single "Shame," which became her fourth radio #1 single and led Elle to become the only act in history to have scored number 1 singles on the Adult Pop Songs, Adult Alternative Songs, Alternative Songs and Country Airplay charts. Her new single "Baby Outlaw,"  is currently Top 15 at AAA Radio.  Rolling Stone wrote of her Austin City Limits live set: "Elle King is a little bit country, a little bit rock n' roll, but ultimately, she's punk as fuck." Variety wrote of her Philadelphia Shake The Spirit tour date "…King churned the clotted cream of punkish country, raw R&B, crotchety rock and deep blues into rich, buttery musical drama with her band, The Brethren.. (she) belted, crooned, purred, sauntered and swaggered her way through a tautly rocking set…one thing became very clear: nearly every song that came before (the finale) was equally contagious, catty-cool, and hit-worthy."
Elle King has appeared on Good Morning America, Late Show With Stephen Colbert, Live with Kelly and Ryan, and The Late Late Show with James Corden in support of her new album Shake The Spirit. Visitwww.elleking.com for more.